After restart of Asus RT-N66U router a strange page occurs and does not go away
I have configured a something unrelated on my router and after restart it came with strange message:
Settings have been updated. Web page will now refresh.
Changes have been made to the IP address or port number. You will now be disconnected from RT-N66U.
To access the settings of RT-N66U, reconnect to the wireless network and use the updated IP address and port number.
What a wonderful message, it must have been created by some excellent creative mind!
However, this page would not go away. Deleting HTTP authentication would not help, deleting cookies either, certificates nop. Finally I remembered that there was some strange request to allow saving offline data. And here it is: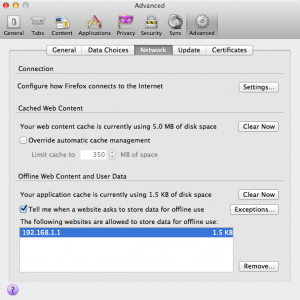 Just delete the data. It was my first touch with offline data and it did not work! Great experience, now I will never let any application to store its data.
UPDATE: Firefox has preference called "Tell me when a website asks to store data for offline use". However it uses this only if application wants to store more than 52MB of data. Check your about:config and probably change following to be more restrictive:

offline-apps.allow_by_default;true
offline-apps.quota.warn;51200